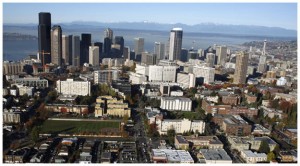 The Seattle University Masters in Teaching Program requires certain qualifications to enter the program and only people who are committed to a career in teaching should apply. This MIT program builds upon the undergraduate education of prospective teachers and better prepares them for the classroom. The students receive advanced lessons in professional education while spending 50% of their time in K-12 classrooms. Students gain valuable classroom experience and confidence with this hands-on approach. Teaching in the classroom helps prepare them for their professional career. MIT students learn as a group to enable mutual support for each other and develop interpersonal skills. The faculty works closely with these students to provide support and to challenge them. Recognition of this course among K-12 schools makes graduates highly sought after. The Masters in Teaching degree they earn allows them to enter the teaching profession at a higher salary and qualifies them for Washington state certification.
Details of the Seattle University Masters in Teaching Degree Program
The MIT program is full-time with classes scheduled Monday through Friday. Schedules vary students are in the field, depending upon the K-12 school schedule. The prerequisites necessary for this program are competency in elementary mathematics and technology. Applicants must also pass a fingerprint identification background check. There is a requirement for test scores from an educator skills test such as the WEST-B for residents of Washington state. Out of state applicants may substitute CEST or Praxis I depending on their home state. Admission into this program requires a bachelor's degree earned with at least a 3.0 GPA. If the GPA is lower than 3.0, the applicant can enter on probation. The Seattle University Masters in Teaching program also requires verification of all applicants coursework with a sealed transcript and two recommendations from people who can attest to the prospective teacher's work with young people.
The students' course segments are known as blocks. Block I for the students includes a five credit course titled Education for Social Change and a middle school field experience/seminar worth two credits. Block I contains a total of 20 credits. Students must choose between courses designed for teaching at the elementary level or the middle and secondary level for Block II. Both courses are worth 16 credits and focus on curriculum, instruction, and assessment. Block III is a teaching internship at either the elementary or secondary level. The internship is worth 14 credits. Block IV is worth 10 credits and features a six credit course titled Reflective Teaching for Social Justice. Successful completion of all four Blocks will earn the 60 credits needed for the degree.
The Seattle University Masters in Teaching course is unique for focusing on cultural diversity and the commitment to preparing the students to teach in multicultural settings. Tuition for the MIT program is $598 per credit. There are scholarships available between $2,000 and $14,400 for the program. A variety of federal need based loans are also available. The Seattle University Masters in Teaching program should succeed in producing excellent teachers.