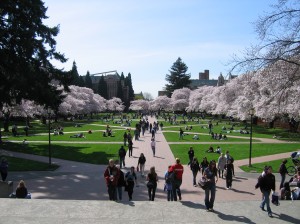 Choosing what field to get a Master's degree in can often be a challenging decision. Current and future teachers often choose to obtain a Masters in Teaching degree to further their knowledge and career possibilities. Individuals in this program care about children and enjoy helping them reach their potential through engaging and interesting class activities. Masters in Teaching students will learn about many facets of education. While obtaining their degree, students learn how to lead a classroom effectively, evaluate their own teaching practices, and discover how current teaching research can be applied to the classroom. Further, students learn how to decide exactly what to teach and how to implement lesson plans in a way that children will understand. Students may be able to contribute to the research of a professor or conduct their own research, depending on the program. Each college or university has requirements for students to meet before they are able to obtain their degree and enter into a rewarding career with many Masters in Teaching jobs to choose from.
Details of The University of Washington Masters in Teaching Degree Program
The University of Washington is a prestigious university and thus has specific requirements for graduate admissions. Future University of Washington Masters in Teaching students must have a Bachelor's degree and complete an application for the university. Furthermore, with the application students must submit a resume, high school and university transcripts, a statement of their goals, a statement detailing their personal background, two letters of recommendation, and a form that indicates they have observed in a classroom for at least 40 hours.
The University of Washington Masters in Teaching program can be a rigorous one, with both studying and teaching required. The University offers students myriad choice when they decide which courses to take to satisfy the 45 credit degree requirement. Some required courses include the history of education, human learning, curriculum design, and education as a moral endeavor. Students may also elect to take more specialized courses in general subject areas such as literacy, science, social studies, or mathematics. The university also offers many courses in which students learn to work with special populations, such as immigrants, bilingual learners, and Native American children, thus improving a student's familiarity with classroom diversity.
Aside from the required courses, students have a choice of three culminating experiences, one of which must be completed before graduation – a thesis, a project, or additional courses and a final exam, all of which are completed with the help of a mentor. After graduation students are able to either have a teaching career or continue to a PhD program.
Financial worries need not keep a student from applying to get a degree. While tuition is $13,438 for in-state residents and $26,308 for non-residents, the United States government offers loans and work-study awards to eligible students. The university also has research assistantships, graduate school fellowships, grants, and scholarships, all of which are available to University of Washington Masters in Teaching students. A University of Washington Masters in Teaching degree would be a wise choice for anyone looking to further their career in education and become a more successful teacher.